Health & Wellness Mobile App
IsaLife serves as a health and wellness community for all Isagenix customers, including nutrition tracking, product orders, social networking, and wellness education.
1. Address a fragmented experience caused by older apps and unauthorized third-party apps.
2. Create an all-in-one health and wellness solution with new features and benefits.
3. Build a community where customers encourage and connect as well as order new products.
Scope:

 Because multiple older apps were becoming one, tough decisions had to be made over which features would make the final product.
Compliance:

Health and wellness regulations vary greatly in different countries. We needed to create an app that was compliant in all our markets.
Collaboration:

This was my first experience working with third-party developers.
Tone and Voice:

We had to create a new app that adhered to the evolution of where our brand was going.
Three years later, IsaLife is still the go-to experience for customers on their smartphone. The apps gone through many changes since 1.0, but it was successful and bringing a complete experience under one umbrella.
​​​​​​​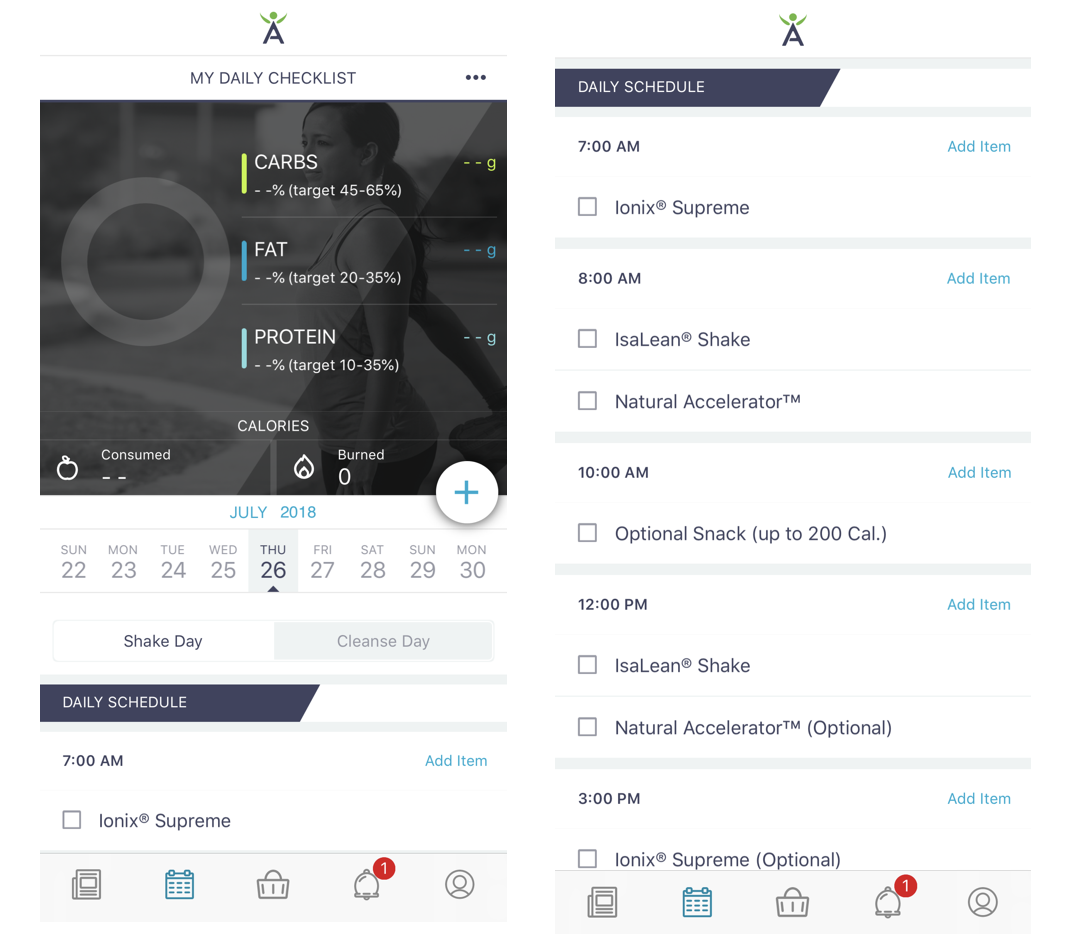 - Users check off Isagenix products and enter food to track calories and macronutrients.
- Daily schedule and time slots help customers plan meals and stick to a healthy structure.
- Tracking integrates with Isagenix 30-Day Weight Loss System (most popular pack for new customers).
- Similar feature set to MyFitnessPal with a focus on integrating Isagenix products.
- Social feed gives users new lifestyle and health content from Isagenix.
- Builds community where users can share their personal stories and be inspired by others (similar to a weight loss support group on Facebook).
- Associates (active business builders) connect with team members to share product tips, recipes, new information, and offer encouragement.
- Built to complement a customer's existing social activity, not compete with it.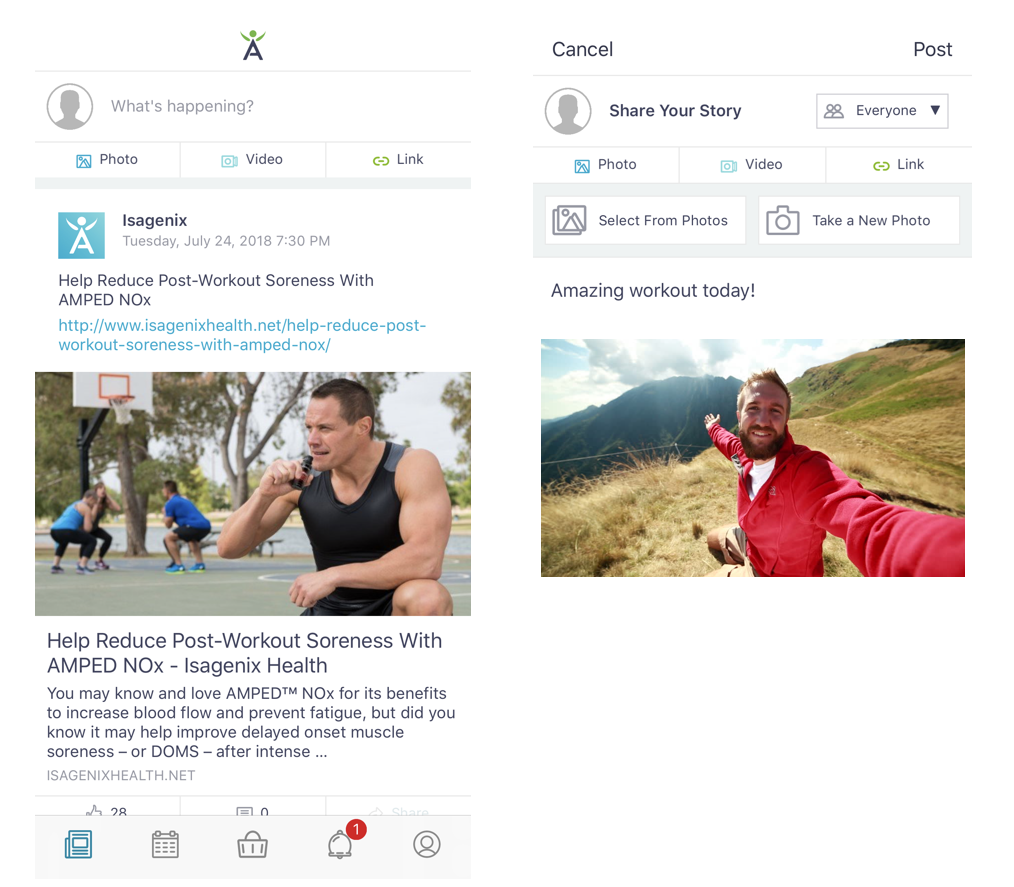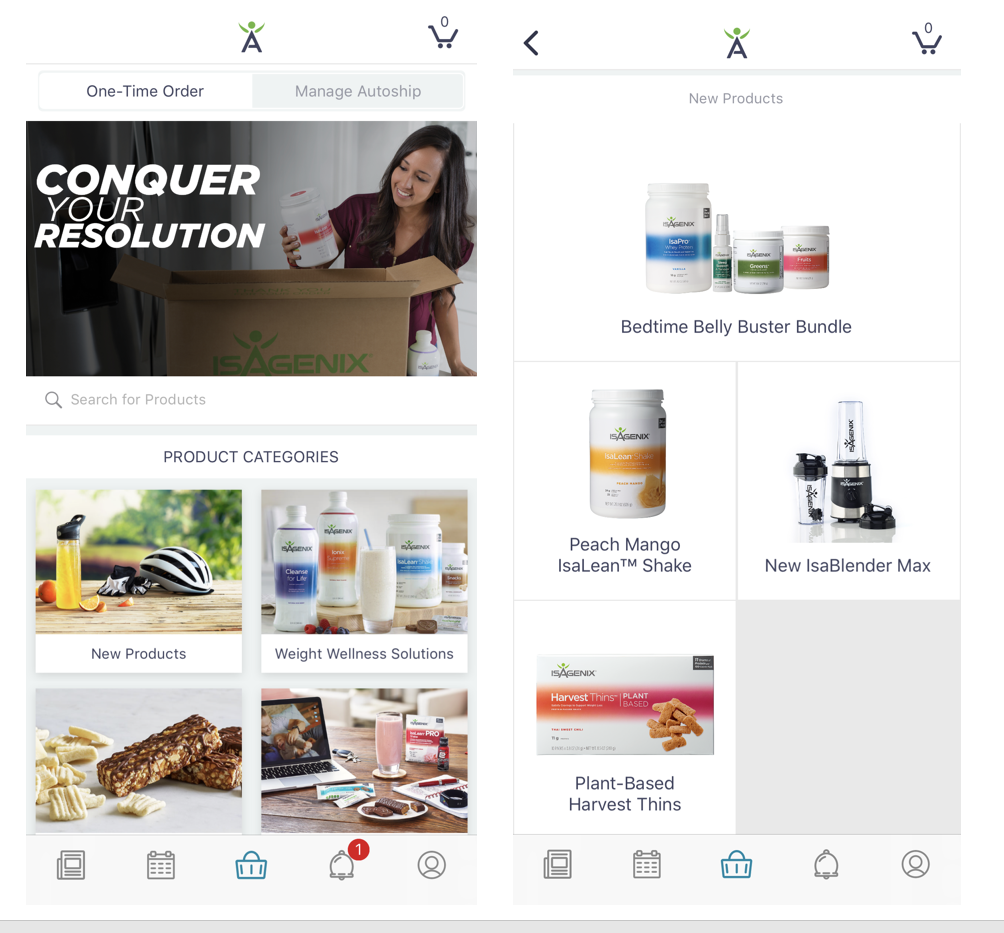 - Search for and order new products.
- Users can manage Autoship orders (reoccurring packs every 30 days).
- Marketplace promotes new and relevant products, packs, and systems.
- Opt-in notifications offer a new way to reach customers when new products and promotions go live.
- Users earn badges for health and wellness accomplishments, such as using their nutrition tracker for 30 consecutive days.
- Goals and achievements align with Isagenix packs and systems.
- Monuments and landmarks theme allow for creative fun while maintaining voice and tone of the brand.
- No limit to where new goals and achievements can expand.